Specialized interdisciplinary curriculum
This program accepts students from diverse backgrounds such as medical science, engineering, technology, humanities and social sciences."Radiation Disaster Recovery Studies " is the subject which is regarded as the culmination of studies in this program. Students will set up tasks based on knowledge and skills acquired through previous lectures and course work and write a report on the subject ("Radiation Disaster Recovery Studies" papers).
Students will be guided through a field-oriented teaching system based on laboratory rotation, designed to broaden their perspective on the subject. Knowledge in "Radiation Disaster Recovery Studies" can be applied in every corner of the World.
Students study aiming to be global leaders with global skills, interdisciplinary skills and management skills and develop a bird's-eye perspective by cross-cutting learning. In addition to theoretical knowledge, we aim to ensure that they acquire practical skills through practical training, fieldwork and internship.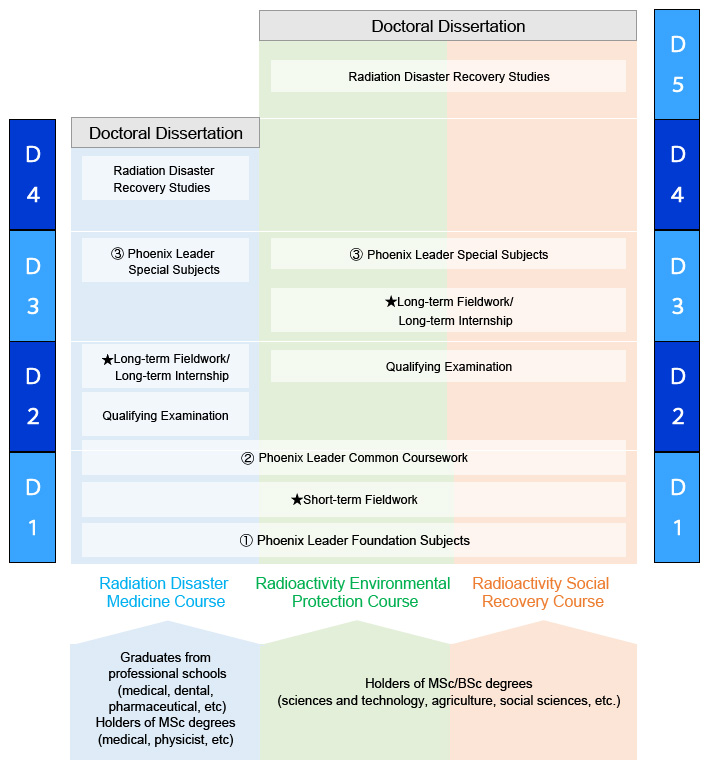 Curriculum
① Phoenix Leader Foundation Subjects
All students will take "An Introduction to Radiation Biology", "Basic Studies for Environmental Sciences (Biodiversity Science)" and "History of Hiroshima Restoration" to obtain a comprehensive understanding of these areas.
② Phoenix Leader Common Coursework
All students will take cross-disciplinary practical coursework at the Hiroshima Phoenix Training Center (HiPTC). The coursework is designed to cultivate practical skills, risk recognition and risk communication.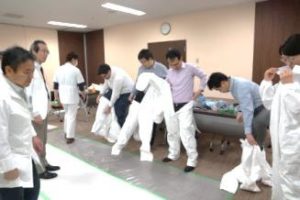 ③ Phoenix Leader Special Subjects
Specialized subjects to support students in becoming leaders in "protecting human lives from radiation disaster", "protecting the environment from radioactive contamination", and "protecting children and society from radiation disasters". The students choose subjects by their courses but they can also take other subjects from other courses in addition to their own to obtain broader knowledge.
★Fieldwork/ Internship
Fieldwork will be conducted in Fukushima. Students will have the opportunity to meet residents from affected areas, and learn first-hand what are the major concerns of the general public in the aftermath of a nuclear accident. They will discuss with residents and professionals the possible measures for prevention. Internships with collaborating companies in Japan, and with international organization (IAEA, WHO, etc.) abroad will help students broaden their perspective by learning how different types of organizations and different countries deal with radiation accidents related issues.
Guarantee the quality of education
This program clearly defines the abilities that students can acquire and a self-evaluation system will be used so students can report their perceived progress and provide us with useful feedback. This system guarantees the quality of education during the program.
Curriculum Maps
By highlighting the roles to be fulfilled by the various lecture courses to be established as well as the coordinated cooperation between these lectures, the "Curriculum Maps" are to define the learning objectives for graduate students enrolled in the Phoenix Leader Education Program, and nurture phoenix leaders who can take active roles in international fields.
Rubric
Explicit presentation of the competences acquired by the students as five grades of "Effort" corresponding to five levels of achievement of the basic goals.
Qualifying Examination
Timing of examination- 4-years course —upon completion of D2 1st Semester               5-years course —upon completion of D2 The purpose of the examination is to determine if a student has reached a required level in the middle of the course and secure the study plan for the goal. The examination contains a written test by subject, presentation and oral examination in English, and assessment of the learning portfolio.
Academic degree
Completion Requirement
a) Students enrolled in the five-year course: In principal, those students who have been registered for at least five years are required to obtain no less than 32 credits, including the program's designated credits.
b) Students enrolled in the four-year course: In principal, those students who have been registered for at least four years are required to obtain no less than 30 credits, including the program's designated credits.
As an exception, if the Phoenix Program and his/her own graduate school recognizes distinguished performance for a student, he/she can graduate earlier.
Students can receive academic degree in various fields; medicine, dentistry, health science, science, engineering, literature, agriculture, academic, management, pedagogy, psychology. The certification is noted with "Phoenix Leader Education Program (Hiroshima Initiative) for Renaissance from Radiation Disaster"